From The Discernment Committee
St. Peter's is receiving names!
The process of finding our new Rector may seem slow and deliberate, but it is an exciting and invigorating time for our parish. It is a chance for each of us to reflect on the gifts God has given us through our beloved St. Peter's Parish Church, and more importantly, it is a time to look forward to what we can become. The timeline for this search process is not definite, but we are excited to be receiving names through the month of June and expect to proceed with our discernment through the summer months of 2019. This process includes lots of prayer and reflection about who we are as a parish and what we need in a new rector. Our Discernment Committee will conduct interviews of candidates, and will rely on the work of discernment that has already been completed through surveys of our congregation and development of our congregational ministry profile, which is available to candidates through the Episcopal Church website for clergy transition. Above all, this process if fueled by the prayers of our parishioners.
.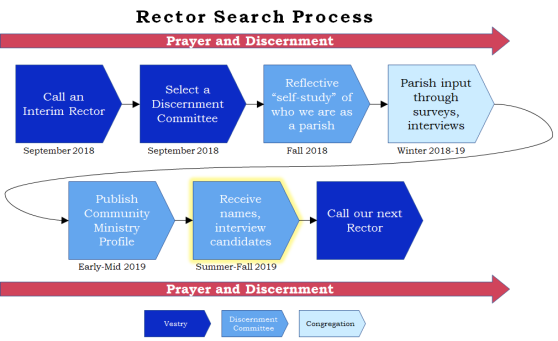 The St. Peter's Discernment Committee would love to hear from you if you have questions about our process. Parishioners and candidates may email us confidentially at stpeterssearch18@gmail.com.
Joyce Peterson, Chair
Kent Bradshaw Cyndi Burnett
Matt Dolci Jessica Evelyn
Lori Janke David Swynford

Discernment Prayer
Eternal God, you are the good shepherd who cares for your Church and through whom all things are possible. We lay the life of our parish before you as we search for a new Rector.
Renew in our parish a sense of your love and mission, that we may serve the people around us and be guided to the priest who, as our rector, will care for this parish and equip us for our ministries.
Guide those involved that they may listen with patience and trust to the voice of your Holy Spirit. Bring us peace to know that, in your time, your will shall be done.
Give us grace and courage to follow where you would lead, that your Name may be glorified through us as we carry out your work of reconciliation and caring for others.
We pray for your servant, now unknown to us, whom you have already chosen to be our Rector, to heed your call with joy and praise.
All this we ask through Jesus Christ, our Lord and Savior.
Amen