Worship with Us
A single service is held during the Summer months, beginning at 10:00AM.
The mission of the Worship Ministry is to continue enhancing our worship of God the Father, the Son, and the Holy Spirit through active participation in both music and worship following the tradition of our rich Anglican heritage, being ever mindful of the need and desires of this Parish.
Nursery is not currently available for in church services, however persons of all ages are welcome to attend.
After 300 years worship remains central to the life of St. Peter's. Two worship services at 9:00 a.m. and 11:00 a.m. are held each Sunday. The 9:00 a.m. service is our quiet service with no music. This service uses Rite I or II in celebration of Holy Eucharist each Sunday. The 11:00 service will be Holy Eucharist or Morning Prayer and is filled with the joyful sounds of families, children, and music. Child care is provided during Christian Education and the 11:00 a.m. service. During the summer months, services are held at 9am and 10:15am.

Our church seats approximately 150 people including a balcony. Throughout the liturgical year we have special services including the Great Litany, the Festival of Nine Lessons and Carols, Ash Wednesday, Blessing of the Palms and Procession on Palm Sunday, Maundy Thursday, Good Friday, and Easter. We have 2 services on Christmas Eve. The Church year culminates with a Youth Service in late spring. An outdoor Holy Eucharist is held annually during the summer followed by a church picnic.
Lay persons are involved in a variety of roles, such as sidesmen, lectors, and Lay Eucharistic Ministers. The Altar Guild carefully prepares the altar for worship and a parishioner provides homemade bread for Eucharist. Children are an important part of our lay ministry. Acolytes assist the rector by serving as bearers of the cross, torches, or banners in processions, and assist the rector at the altar. Peter's Heralds, children grades K-3, ring the church bell in the belltower to begin worship.
Our Adult Choir extends our worship by leading congregational hymns and offering beautiful anthems.
This ministry assists in the coordination of all areas of the service including Sidesmen, Altar Guild, Acolytes/Peters Heralds, Lay Worship Leaders and Music.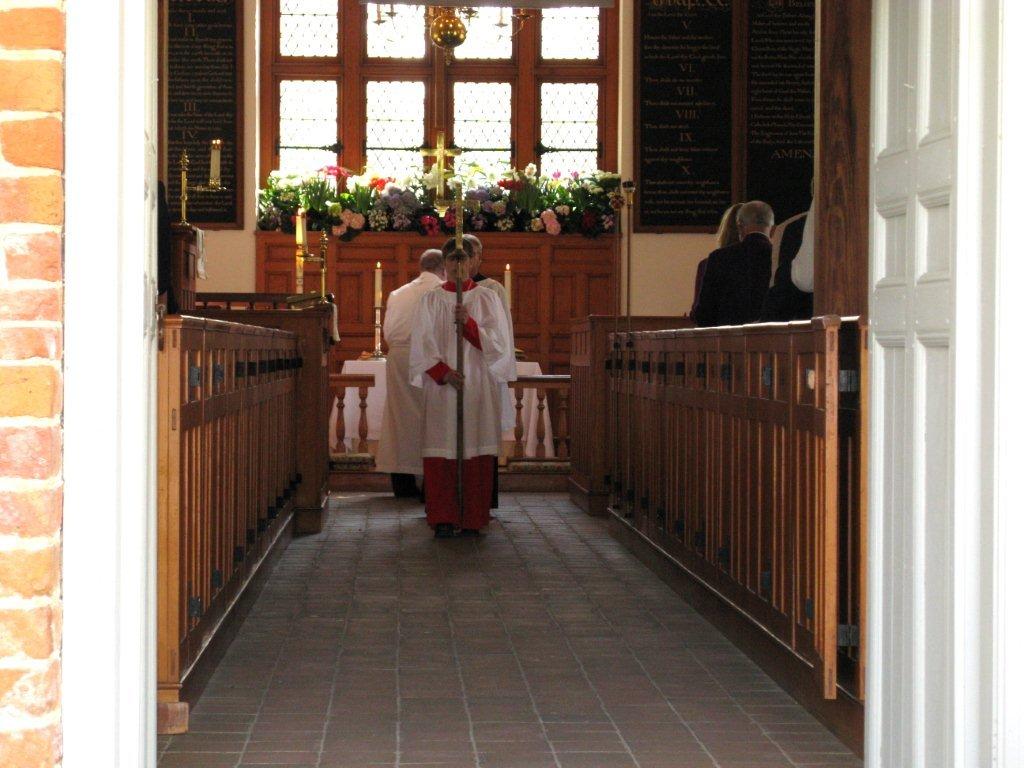 Sidesman / Usher - Offer a pleasant greeting and hand out bulletins and other worship information pertaining to the service. Collection of the offertory and delivery to the altar. Leading parishioners for communion. Organization of the hymnals and prayer books after the service.


Altar Guild - Preparation and removal of the altar with linens and vessels. Provide assistance with weddings and funerals. Launder linens. Maintain oil in candles. Prepares bread and wine prior to service.
Acolytes - 10 years old and up. Assist Rector performing worship and preparation of communion. Leads procession/recession and lighting/extinguishing candles.

Peters Heralds - 5-9 years old. Rings bell prior to service and delivers children's offering to altar.

Lay Worship Leaders - Reads Lessons and Psalms. Leads the Prayers of the People.

Lay Eucharistic Ministers- Assists Rector in administering communion. Schedules training and licensing.


Adult Choir- Our adult choir is made up of all volunteers. Rehearsals are weekly on Wednesdays at 7:00 p.m. generally September to June. The choir will resume its activities when COVID restrictions that prohibit singing are lifted.
Children's Choir - Our children's choir sings during special services. Children's ages range from K and up. Rehearsals are as needed.
Wedding Liasons - At least one liaison will be assigned to each wedding celebrated at St. Peter's Church. Their duties are to open and close the buildings, and within some very specific and limited guidelines, to assist the Rector and the couple.