Our New Interim Rector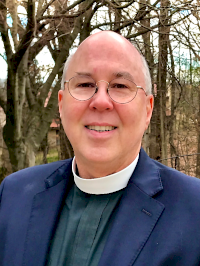 The Vestry is pleased to announce that The Rev. Dr. John Dewitt Stonesifer has accepted our call to be St. Peter's Interim Rector beginning July 5th . We give thanks to God for bringing us such a talented priest to serve our parish and guide us for at least the next two years in our discernment of what God has planned for St. Peter's.
John comes to us, highly recommended by our Bishop, Susan Goff. He is a life-long Episcopalian and a son of Virginia - having been born and reared in Alexandria and its neighboring communities.
While serving as a priest for nearly four decades, John has focused on serving as a professional interim priest for the last 20 years, working with over 24 parishes –in Virginia, Maryland, Kentucky, Delaware, West Virginia, Illinois, and South Carolina.
John graduated from Clemson University cum laude in 1980, then went on to earn his Master of Divinity from Virginia Theological Seminary in 1984. He served in parish ministry for six years; then for nine years for two Episcopal Schools as chaplain, assistant to the head of schools, and leader of religious curriculum – and earning an M.B.A. from the Templeton Institute in 1995.
The emphasis of his service in recent years has been on interim ministry and clergy coaching. His doctoral work in transition leadership was completed in 2015 at Louisville Presbyterian Theological Seminary.
John is a mature, recognized and proven leader for the Interim Ministry in the Episcopal Church (IMEC) and the ecumenical Interim Ministry Network (IMN), both of which support the training and development of interim ministers, and has taught classes within the IMN for more than 15 years.
John and his wife of 37 years, Susan, split their time between New Castle, Delaware and Silver Spring, Maryland. Susan, a graduate of William and Mary, has been the volunteer historiographer for the National Cathedral in Washington, DC for a number of years. They have two grown children and one grandchild.
In his free time, John enjoys playing music in a band (he's a drummer) and taking part in the Sons of the American Revolution, where he serves as the Senior Chaplain for the D.C. Chapter.